Today, I am going to share a setup guide called 'LG UltraFine 5K monitor for Customac Build'.
One of the High-End monitor, LG's Ultrafine 5K, is sold by Apple local store or online. Actually, this monitor is only for Apple's Mac. Yet, this monitor is working as a 5k monitor in Windows 10 well. However, peripheral features of this monitor are not working properly in Windows. So far, the Audio and Video is working but not Camera and Mic working in Windows. There is some way to fix those functions even brightness control using patched drivers but it is painful after Windows update. A good news about this monitor is working much much better in Customac. Yet there are several required steps and devices to enable this monitor and use properly.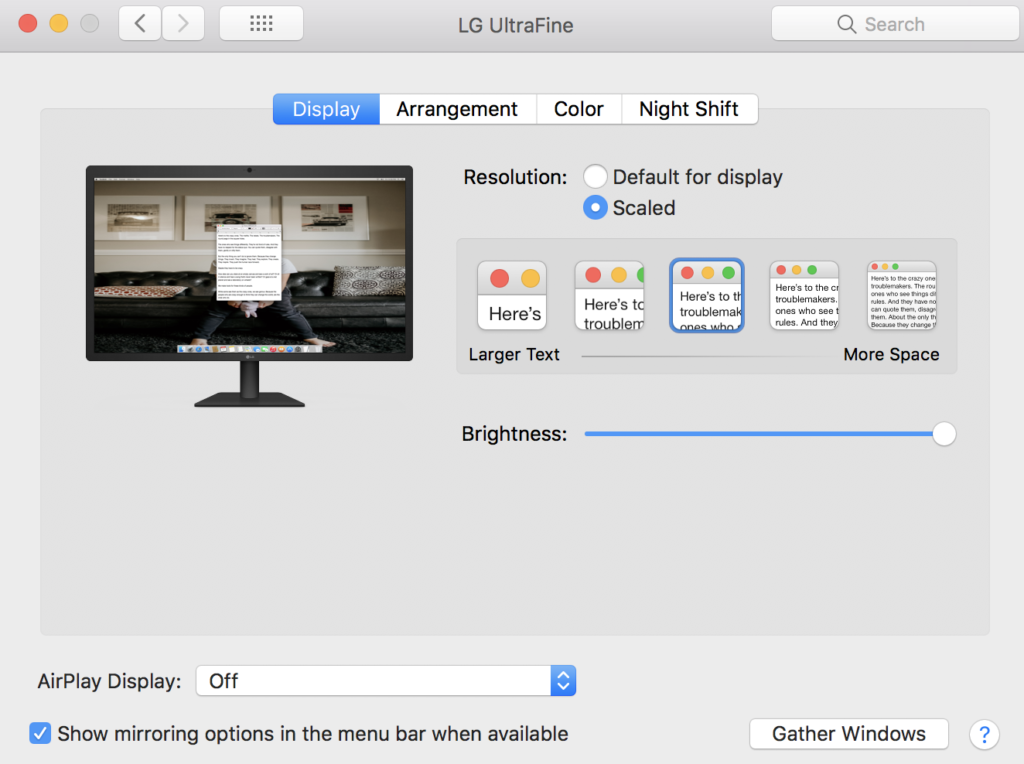 [Updated] 2018.11.28 Titan Ridge is officially working in my Z370 Aorus Gaming 7 now. See Compatibility list 
[Updated] 2018.11.05 Alpine Ridge and Titan Ridge's Hot Plug fixed by using SSDTs. So All functions back to use after sleep/awake. No more power issue to make the display in power nap mode! see more detail at last.
Current system:
I am using dual monitors,
1. LG 31MU97 (4K Cinema),
2. LG UltraFine 5K.
Vega 64 water cooling card is working well for both 4K and 5K resolution in 60Mhz. There is a possibility of using Nvidia Card like Geforce 1080 or Titan XP but they need to Nvidia driver and some patched kext in every time when OS is updated.
To enable 5K in your Customac, you must have "Thunderbolt 3 adaptor" in my case I am using GA-Alpine Ridge Thunderbolt 3 adaptor PCI card because I am using Gigabyte board. If you are using different brand's MB, you have to get it properly.
The adaptor brings two cables (mDP to DP) so that we can connect the card to GPU simply. For 5K resolution enable, we need both cables. You could use one cable for up to 4K resolution.
Currently, my Customac is High Sierra (10.13.5). And I checked it working as well in 10.14 Beta. 10.14.2 beta so far so good!!
Hardware Overview
CPU: Intel Core i7-8700K (8086K) Coffeelake 6-Core 3.7 GHz (4.7 GHz Turbo) LGA 1151
Motherboard: Gigabyte Z370 Aorus Gaming 7
GPU: Sapphire Radeon RX VEGA 64 8GB LIQUID COOLING
Ram Memory: G.SKILL Ripjaws V Series DDR4 16gb x 4ea, 3000mhz
System Disks: 960 EVO NVME 500gb (macOS) + 950 PRO NVME 512gb (Windows 10)
Power: Rosewill PHOTON Series 1050W Full Modular Gaming Power Supply
Case: Deep Cool Quadstellar
Mouse & Keyboard: USB Mouse and Apple Magic Keyboard
Monitors: LG UltraFine 5k, LG 4k Cinema
CPU Cooling System: NZXT Kraken X62 (RL-KRX62-02) Liquid Cooling
Thunderbolt 3 (USB-C) adaptor: GA-Alpine Ridge or GA- Titan Ridge (After Bios F11)
"
As you can see my screenshots, all the monitor's functions are working well. "After sleep/awake issei's is gone with NEW SSDT injection for Alpine ridge and Titan Ridge"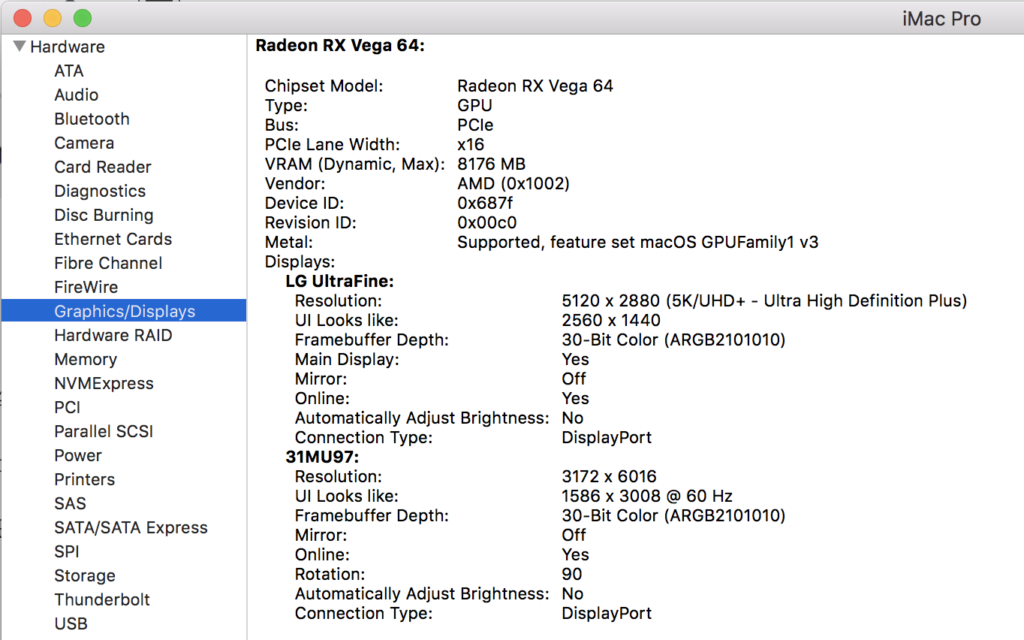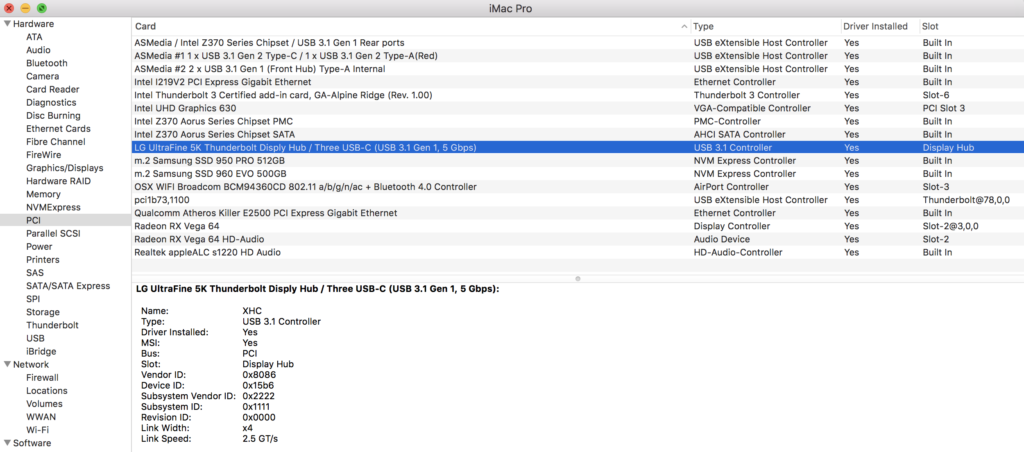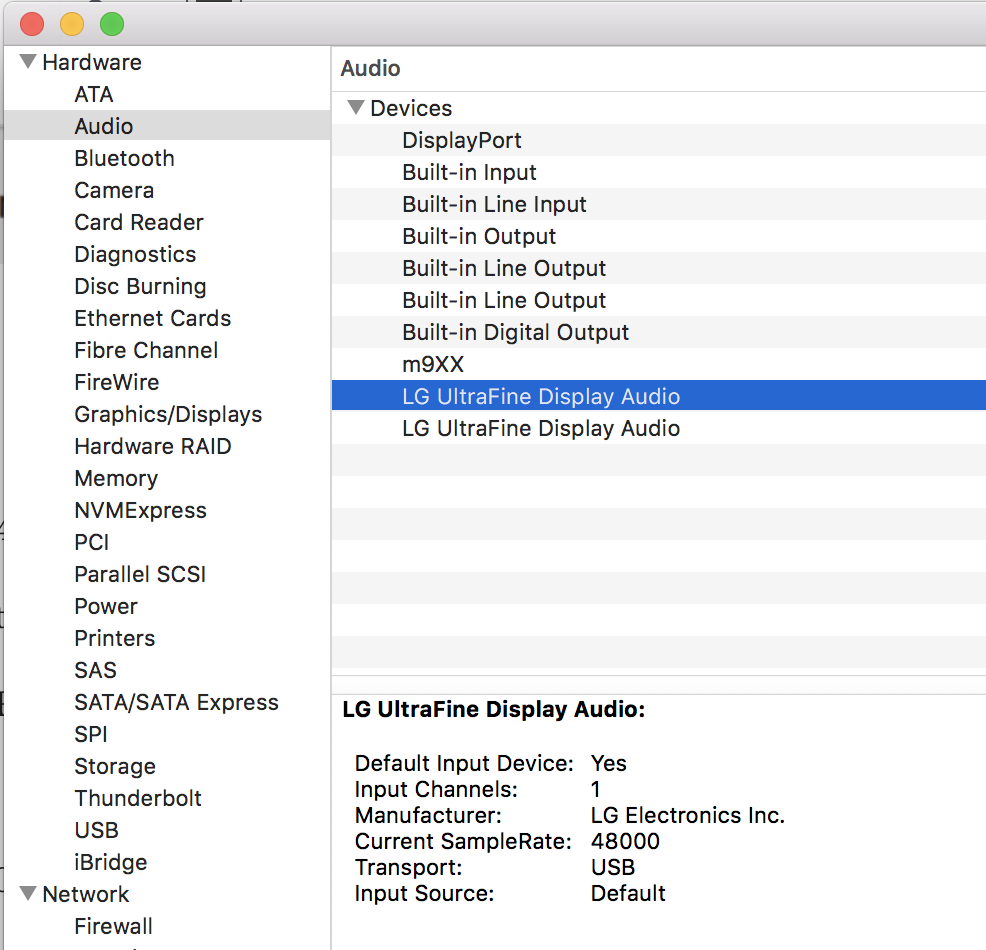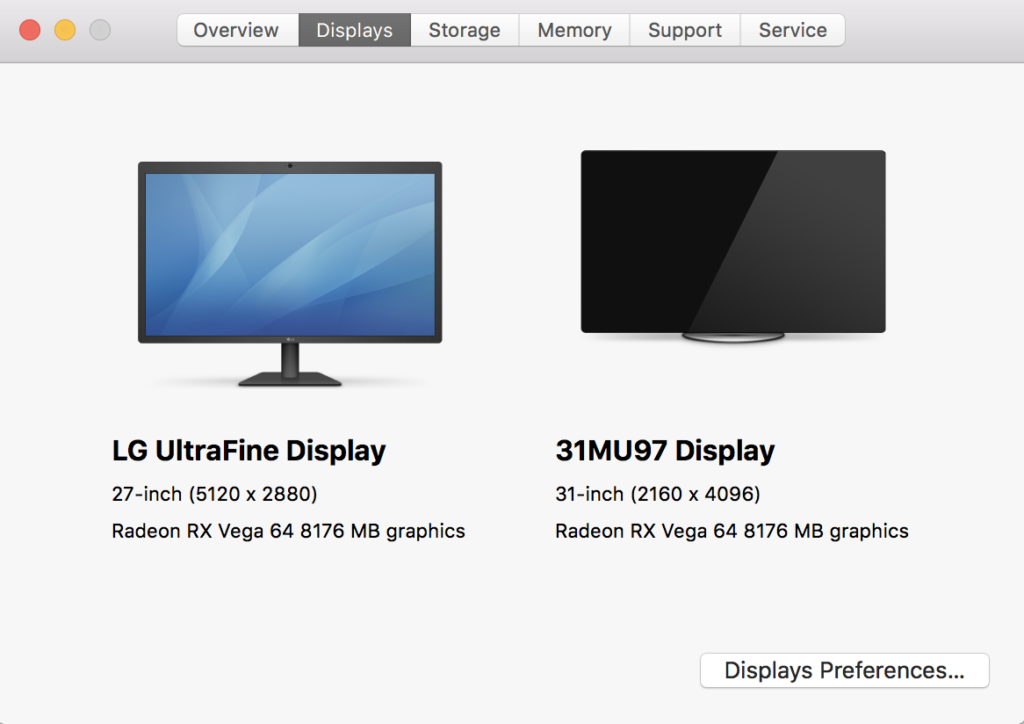 Physical Setup:
First, insert your Alpine Ridge card in MB. In the MB's manual, I should put the card to the last PCI x16 slot for TB3 working. So, please look at your MB's manual about this installation.
Do not connect your cables yet to the card. Currently, I am using the Alpine Ridge Rev.1.0. But this guide is also working with Titan Ridge as well.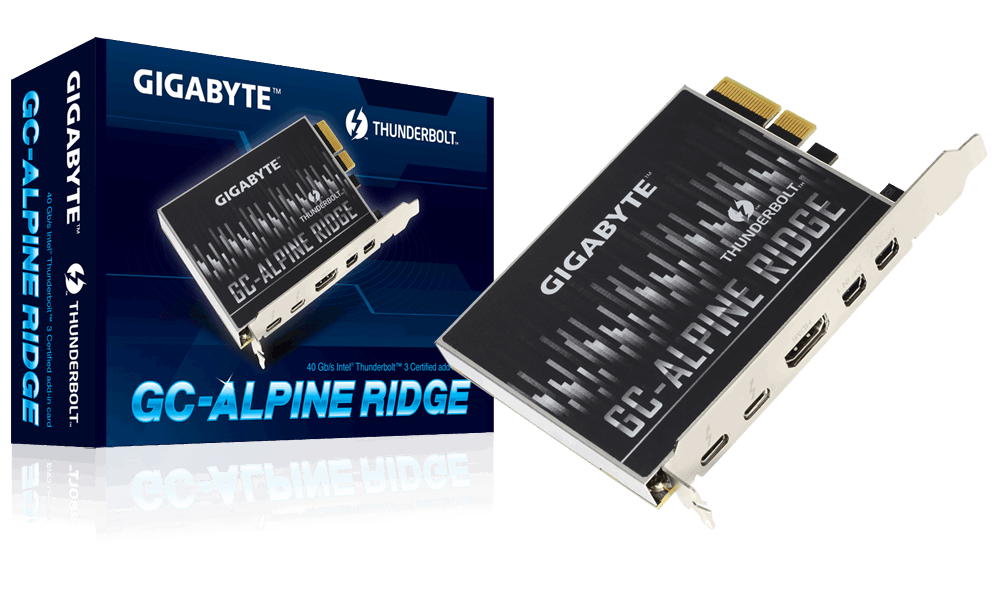 Step 1. You can use either iMac pro or iMac 18,3 build in my blog for this build. Probably, ok if you have a working Customac in higher than Sierra. But please check your MB for compatibility with Alpine Ridge Card.
Step2. Install the TB3 Driver and update firmware up to the newest in Windows. There is no way to make Alpine Ridge card recognized in Customac without Windows's driver installation and firmware update.
Step3. After all driver and firmware are done in Windows side, you should go to Bios and edit the Thunderbolt (TM) Configuration options like below:
After you are done with Step 3, then you can test your monitor on in Windows. mDP to DP cables x2 and THB-C Header Cable x1 come with the Alpine Ridge card. And USB-C cable comes with the monitor. So now it is time to connect those cables from the TB3 card to the monitor. And do not forget to connect THB-C Header Cable to MB's THB-C Header. See some pictures to set up this process.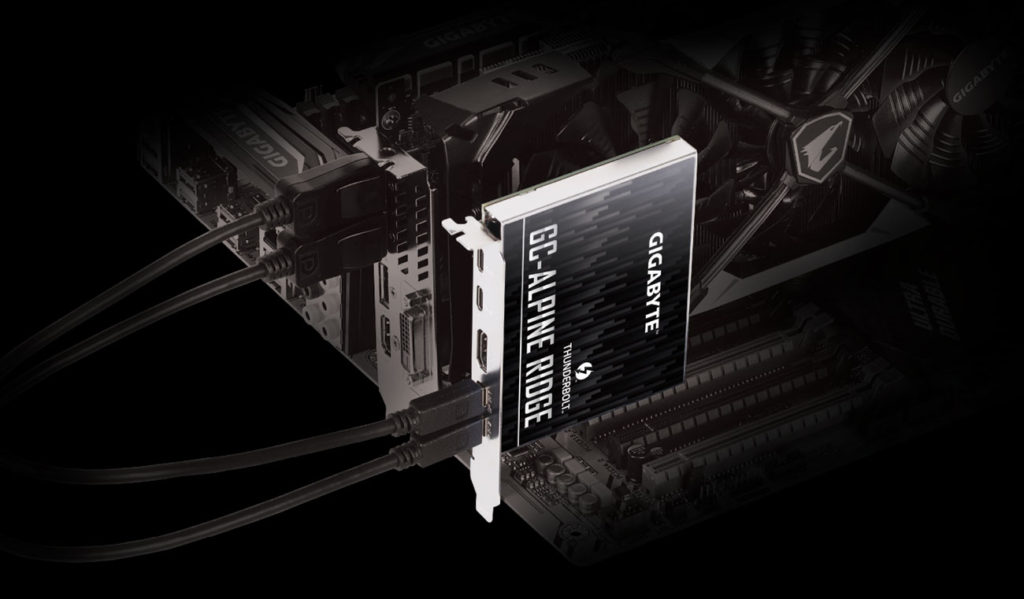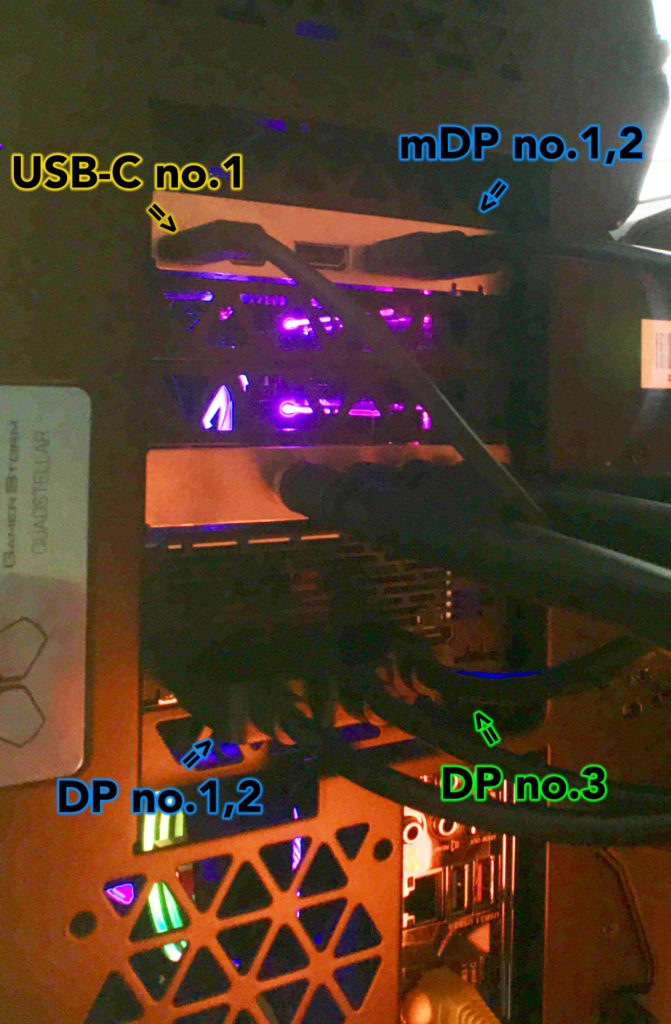 I have two monitors as I already mentioned before. And I am using UltraFine 5K for my main monitor now. Therefore, mDP 1 and 2 go to DP 1 and 2 (Blue). But if you want to use another monitor as a main, DP 3 (Green) should be connected to DPNo.1's port and Blues go to DP 2,3. This main monitor setting is only for Bios setup and Booting process, but you can change the Display option in System Preference, as you could do pick any monitor as your main but only after boot. The last cable, USB-C (Yellow), goes to LG UltraFine 5K directly. Physical setup is done now.
But Customac is not gonna work with the monitor yet. We must do a couple steps for Customac being recognized.
Step 4. Go to Windows at least once after your physical setup's done. And confirm the TB3 app (driver) is working properly and check the detail that your monitor's name correctly shown in the app.
Step 5. Reboot your computer and go to macOS in this time and Mount your EFI using the Clover configurator. In this step, you must take out DP no.2 from the Alpine ridge card. So you could avoid a black screen after macOS booted. If your setting is ok your LG UltraFine 5K monitor turning on with 4K resolution. Now you have to setup for software part.
If you are using AMD card like Vega, add this AMD kext VegaGraphicsFixup.kext to your Other folder in EFI. Add this boot Argument slide=0  (No more use this) And all is set to use for AMD user. 
And for Nvidia user, you need to add these NVIDIA kexts Nvidia5K.kext to the other folder in EFI. (No more further update for Nvidia card RIP)
Plus, boot Argument is :
-v slide=0 kext-dev-mode=1 keepsyms=1 -ngfxnoaudio -ngfxnoaudiocon ngfxpatch=pikera nv_createDetailedTimingsFromEdid=1

And you all set for Nvidia as well. I am not using Nvidia card so I can not answers for Nvidia issue. But there is a forum that you could get the answers at here
Now, reboot again. Put the DP2 cable back to the Alpine Ridge card and you are all set to use this amazing monitor for your Customac.
It might not work your peripheral functions like audio, camera, brightness control after sleep / awake. This is TB3's hotplug issue which is not resolved completely yet. I don't use Sleep/awake option tho.
SSDT-TB3 Hot plug for Alpine Ridge and Titan Ridge For UltraFine monitor and extra TB3 devices!!
Last modified: January 11, 2019